Territory Partnering Board
The Territory Partnering Board (TPB) comprises of a representative from the fifteen public sector partners. The TPB are responsible for monitoring the performance of hub West Scotland (hWS) ensuring best value from its activities. The TPB meetings provides a forum for the open exchange of ideas between hWS and the public sector and serves to improve the delivery of the partnership.
The benefit of the partnership is a long term relationship between the development partner and the client. By jointly delivering a pipeline of work over a long term period, the partnership can build upon successful projects and develop their joint working practices, working with an established, performance managed supply chain.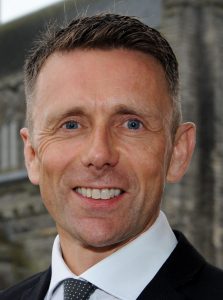 Alasdair Morrison is Head of Regeneration for Renfrewshire Council. He has also held the role as acting Director of Development & Housing Services with responsibilities for the planning, housing, economic development and regeneration functions of the Council, this role also encompassed overseeing the delivery of the Council's City Deal infrastructure projects. Alasdair is a member of the Glasgow City Region Economic Delivery Group and chairs the stakeholder Steering Group overseeing Scotland's Advanced Manufacturing District
| | |
| --- | --- |
| City Of Glasgow College | Stuart Thompson |
| Clyde Gateway Developments | Alison Brown |
| East Dunbartonshire Council | Alan Bauer |
| East Renfrewshire Council | Margaret McCrossan |
| Elderpark Housing Association | Shirley McKnight |
| Glasgow City Council | David McEwan |
| Glasgow Housing Association | Laurie Carberry |
| Glasgow School of Art | Sandi Galbraith |
| Inverclyde Council | Eddie Montgomery |
| NHS Greater Glasgow & Clyde | Louise Long |
| Police Scotland | Duncan McLew |
| Renfrewshire Council | Alasdair Morrison |
| Scottish Ambulance Service | Julie Carter |
| Scottish Fire and Rescue | Iain Morris |
| West Dunbartonshire Council | Craig Jardine (Vice Chair) |
| Clydebank Property | Stephen West |
This document sets out the Territory Partnering Boards ambitions for the partnership with hWS for the next 3 year period 2016-2019. It is focused upon creating the opportunity to develop a high performing partnership which delivers successful, value for money, facilities for the public sector partners and the communities which they represent.
The Territory Partnering Board agreed the following key themes to be central to the success of the partnership. Agreed measurement methodologies have been set against each theme, incorporated with the Territory Delivery Plan.
Value for Money: demonstrating value for money develops greater confidence and commitment to the partnership
Partnership: build upon the work to date
Process: The reinforcing and strengthening of the delivery process
Performance Improvement: focus on learning to improve future performance