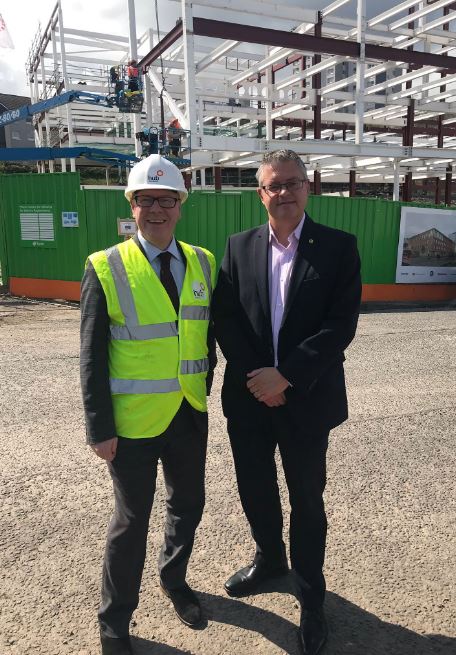 Minister on Building Standards fact finding mission
Kevin Stewart, Minister for Local Government, Housing & Planning paid a visit to the new Greenock Health and Care Centre on Thursday 8th August.  He was joined by Stuart McMillan MSP and Councillor Jim Clocherty.
The £20m project is being delivered as a partnership between hub West Scotland, NHS Greater Glasgow and Clyde, Inverclyde HSCP, Inverclyde Council and the local community and is due to complete by September 2020.
This is hub West Scotland's 7th project to be delivered in partnership with NHSGCC since the partnership began in 2012. This learning gained from previous projects further enhances the  added value that is created by bringing the client, design team and contractor together at the start of the project to shape the brief; establish key objectives, and address understand risks and thereby set the project up to be delivered successfully.
As with all Hub West Scotland projects, there is a strong focus on inclusive growth and this embraces the development, construction and 25 year operational phases. The related initiatives involve working with our supply partners to maximise business opportunities for SMEs, deliver employment and training targets and partner with local schools, West College and community groups.
The new centre will provide a wide range of services for the benefit of the community it serves. This includes the transfer of four General Practices, pharmacy, primary care and HSCP services from the current health centre, as well as the introduction of other services, including specialist children's services, speech and language therapy and the care at home service.
Mr Stewart was visiting in his capacity as Minister responsible for Building Regulations in Scotland. He was exploring how building owners (clients), design teams and contractors ensure that construction projects deliver on quality and comply with Building Regulations.
They were accompanied by Aubrey Fawcett, Inverclyde Council's Chief Executive. Mr Fawcett also chairs the Building Standards Futures Board.
Scottish Government Housing Minister Kevin Stewart said: "Today, I have seen how collaboration between the Council, building owners, construction and design teams is key to achieving compliance with buildings standards.  These developments are testament to that approach.
"The Scottish Government published updated building standards last month that will ensure projects are safe and fit for purpose – as well as being great places to live, work and study.
"We will continue to work closely with our stakeholders to ensure Scotland's buildings meet the highest safety standards."
Councillor Jim Clocherty, Inverclyde Council's Depute Leader and Education Convener, said, "Building Standards are not red tape. They ensure that the structures we live in, work in, study in and relax in are safe. There can be no short cuts when it comes to safety. Grenfell Tower is a stark reminder of that fact. This is why it is so important that our Building Standards regime is fit for purpose; that construction firms comply with Building Standards and that where there isn't compliance, there is strong and effective enforcement."