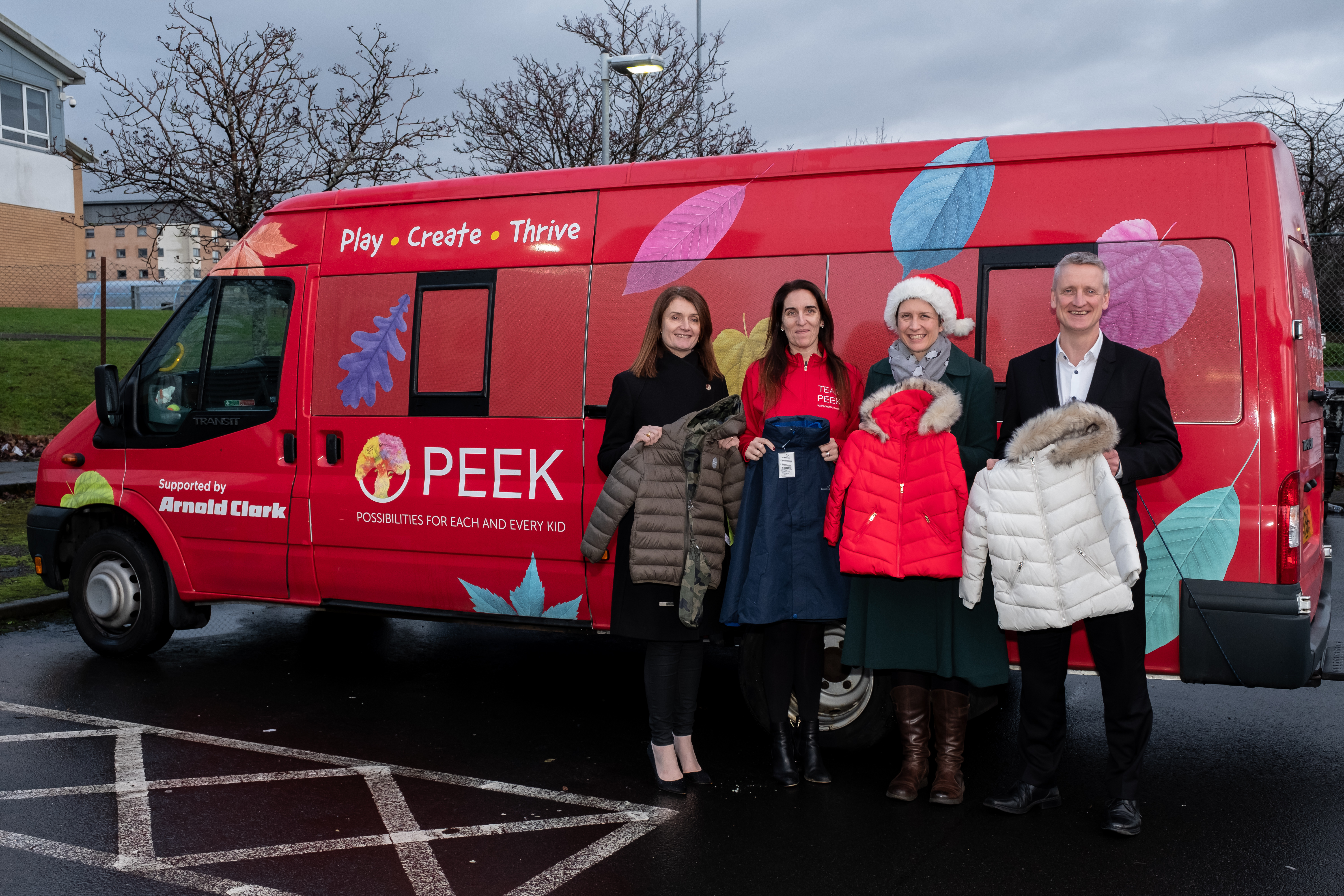 hWS 2018 Christmas Appeal
 This Christmas hub West Scotland asked our Supply Chain partners (a wide range of consultants, contractors and advisers) to donate warm children's winter jackets and wellington boots to support our partner charity PEEK (Possibilities for Each and Every Kid).  PEEK is an amazing charity that makes a real difference and helps improve the life chances of children and young people in the Glasgow area.
The response has been overwhelming and the kindness and generosity of companies and individuals has been inspiring.  People have taken this appeal to their hearts and contributed an incredible 222 jackets and 147 pairs of wellingtons so far.   Contributions have come from some interesting sources such as profits from office snack boxes and Christmas Party funds that have been redirected to benefit the Charity.  This fantastic response from the design and construction sector may have been motivated by increased awareness of the local context where 34% of children live in poverty: a stark fact that surprised many of the kind people who contributed to the appeal.
This will go some way to support local children during the winter months. It part of a wider fundraising programme that PEEK has led this Christmas to assist vulnerable families and we are humbled to have played a part in making a difference.
Iain Marley, CEO of hWS said "The Hub West Scotland partnership is passionate about making a positive contribution to communities in west central Scotland so I was confident that there would be a good response to this appeal however we have been stunned by the humanity and generosity that has been demonstrated.  It is significant that the donations have come from individuals as well as companies.  The appeal has really struck a chord and we are touched that money set aside for celebrations has instead been selflessly put toward this very worthy cause"
Melodie Crumlin, CEO of PEEK said "We believe every child has the right to play regardless of their circumstances, but for many of our children, particularly during the colder months, the experience of going outside is limited.   With warm jackets and foot wear our children will be able to enjoy the magic of play over the festive holidays as they jump in more puddles, and perhaps make snow angels!  A huge THANK YOU to West Hub and their partners for their generosity and kindness. Thank you for reminding our children and families that they are thought of.
.