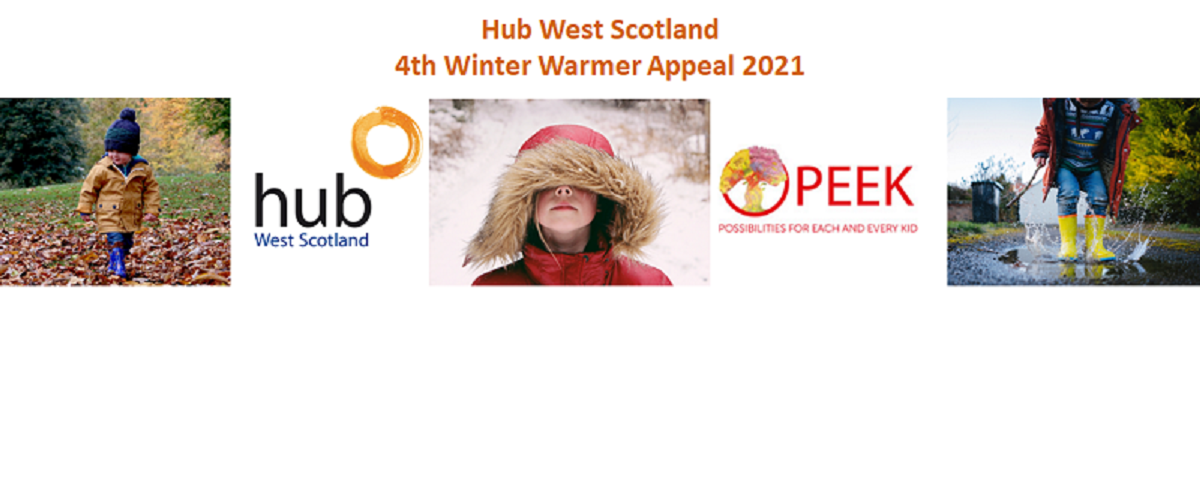 hub West Launch 4th Winter Warmer Appeal to Help Local Children

As Christmas approaches, it is hard to imagine children going without winter jackets and wellingtons to keep them warm in the cold months. However, figures show that 1 in 3 children in Glasgow are living in poverty and they don't have the appropriate clothing required to keep them warm.
We are proud to support our charity partner PEEK Project who do everything they can to support our children living in poverty in Glasgow.  We are launching our 4th annual appeal for new winter jackets and new wellingtons to be donated by Friday 10th December 2021 #winterwarmer
How to Donate
Purchase the new jackets and wellington boots online and have the order delivered direct to: PEEK Project at The Legacy Hub, 301 Springfield Road, Glasgow, G40 3LJ (in person drop offs can be arranged Tuesday to Thursday, however, please call 0141 554 3068 in advance to arrange).

or
Make a donation via our JustGiving page: justgiving.com/hubwestwinterwarmer2021
Let us thank you!
Once you've placed your order or made your donation to the JustGiving page please let us know via our social media platforms so we can send you our warmest thanks.
LinkedIn – @hub-west-scotland and @PEEK Project
Twitter – @HubWestScotland and @PEEK_project_
The hashtag for the campaign is #WinterWarmer