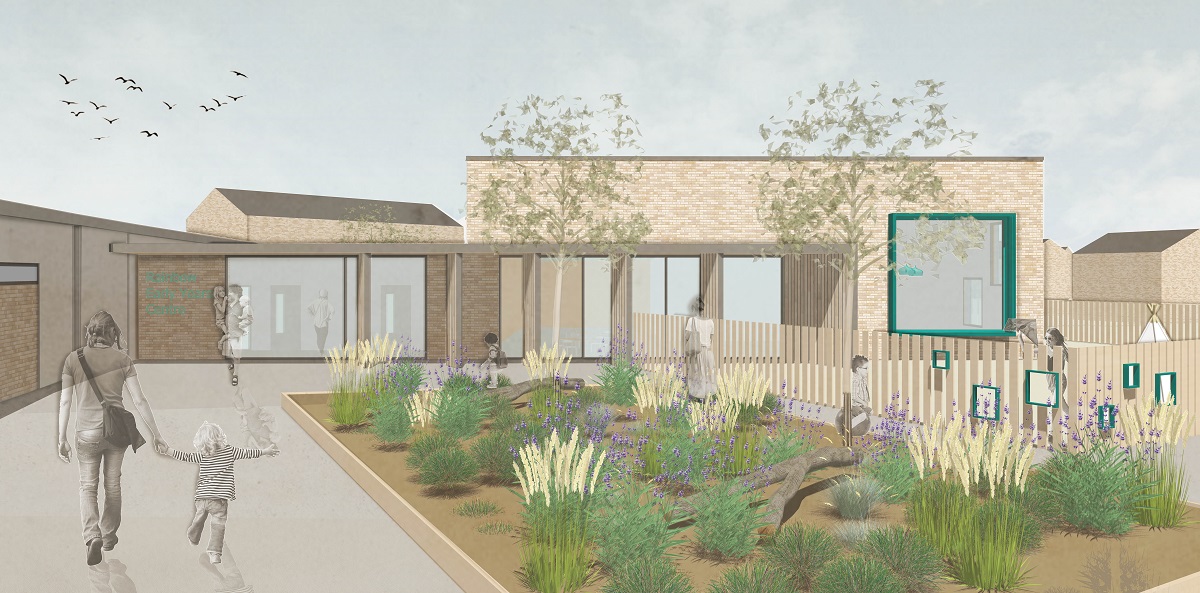 Financial Close is achieved for Rainbow Family Centre (Park Farm) nursery extension
Parents, carers and local toddlers in Port Glasgow, Inverclyde, will soon be enjoying the benefits of a brand new nursery, as work starts next month (September 2020) on a £2.4m extension to the Rainbow Family Centre (Park Farm).
The new Park Farm facility is being developed by hub West Scotland, who have worked in partnership with the Council delivering multiple educational facilities. It will be connected to the existing Rainbow Family Centre. Both buildings will operate as one facility. The existing centre will remain open during the building work which is being done by CCG (Scotland) Limited.
The extension, design by architects Holmes Miller, is part of a major expansion programme which has seen the amount of free early learning and childcare provided to all three and four year olds – as well as two year olds whose parents are on benefits or a low income – virtually double from 600 hours a year to 1,140 hours.
Work is complete, underway or planned at five schools, five children's/family centres and two nurseries to extend or create classrooms or outside spaces.
Councillor Jim Clocherty, Convener of Inverclyde Council's Education & Communities Committee, said, "Making sure that every parent, child and carer in Inverclyde has easy access to high quality, early learning and childcare is vital and this project plays a key part in achieving that goal.
"This kind of positive start sets children up for life. It equips them with a level of confidence and skills that they will carry with them throughout their education. High quality early learning is also vital for combating the damaging effects of poverty and closing the gap between, how well children from poorer families do at school, compared to those from better off families."
Iain Marley, CEO, hub West Scotland said, "We are delighted to continue our fantastic relationship with Inverclyde Council and deliver facilities that add to the Council's impressive portfolio of high-quality learning environments. The design of the extension to the Rainbow Centre communicates well with the architecture of the existing facility, protects the public realm and minimises the impact of construction operations on the existing facility and surrounding neighbourhood."
CCG Managing Director, David Wylie said, "CCG is proud to have worked alongside Inverclyde Council and hub West Scotland since 2017, supporting the creation of various, high-quality education facilities across the region including Glenpark Early Learning Centre and St Ninian's Primary School. Reaching financial close for Park Farm is another significant step in the council's ambitious improvement programme and we look forward to continuing our partnership with them and hub West upon the commencement of works this September."