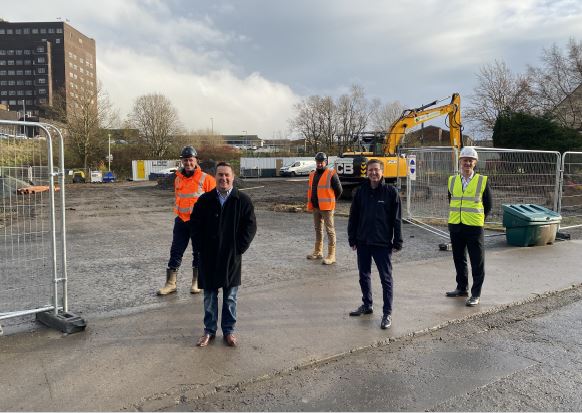 £3m Greenock nursery on the way
Building blocks for a better education for children in Greenock are in place with the start of work on a £3 million nursery.
Construction of Inverclyde Council's new Larkfield Early Learning Centre is under way and will provide a state-of-the-art facility for up to 100 young people when it is completed.
It is being built, at a cost of £2.9m, at the same time as a £2.4m extension to Rainbow Family Centre in Park Farm, Port Glasgow, which began in September, and will increase capacity there by 64.
Both projects – due for completion in June 2021 – are the latest in a long line of successful collaborations between the council, its development partners hub West Scotland and builders CCG Scotland.
The facilities will provide increased capacity to support the local authority's doubling of free early years provision from 600 to 1,140 hours annually, which began in August as originally planned despite the lifting of the deadline due to the pandemic.
Councillor Jim Clocherty, Inverclyde Council's depute leader and convener of education and communities, said: "We pride ourselves in having some of the best educational facilities in the country here in Inverclyde and the new Larkfield Early Learning Centre and extended Rainbow Nursery will only enhance that reputation even further.
"Upon completion, children and families in this part of Greenock and in upper Port Glasgow will have access to first-class early years facilities to help give our young people the best start in life and to their education."
The Park Farm and Larkfield developments are the sixth and seventh, respectively, educational projects to be delivered by Inverclyde Council and hub West Scotland.
Both have been designed by architects Holmes Miller.
Iain Marley, chief executive of Hub West Scotland, said: "We are thrilled to continue our valued partnership with Inverclyde Council and to have reached the construction stage of this project.
"The new facilities have been custom designed to support the pre-school curriculum and will provide a fantastic learning environment within which children can grow and develop.
"Our thanks go to the Inverclyde team, CCG, Holmes Miller and all partners who have worked so skilfully and diligently together."
The new nursery is being built on land at Stafford Road and partly in the grounds of the former Sacred Heart Primary on Westmorland Road, which currently houses pupils and staff from Larkfield Children's Centre.
Following completion of the construction work, contractors CCG will then demolish the school with that area reinstated to soft landscaping.
David Wylie, CCG managing director, said: "Larkfield Early Learning Centre is one of two live projects that CCG is presently delivering in the local authority and officially the fifth project overall to have commenced within a four-year period.
"The partnership between CCG, Inverclyde Council and Hub West Scotland is continuing to deliver educational facilities of the highest standard across the region and we look forward to a formal completion in summer-2021."
In Port Glasgow, Rainbow Family Centre is being expanded through a new extension being built in the car park which will then be connected to the existing family centre.
The car park has been relocated on the neighbouring former Park Farm Community Centre site.
It means children and staff can continue in their own 'home' while the work is taking place.
Across Inverclyde, work is complete, underway or planned at five schools, six children's/family centres and two nurseries to extend or create classrooms or outside spaces.